CLOCKWISE CAMPUS
The first ever workspace in the metaverse, created to provide a digital platform for people to connect, collaborate and interact.
Influenced by the best of our existing locations, the Clockwise Campus features different zones for different working patterns; a carefully curated soundscape, an endless horizon of water, plentiful greenery, dawn lighting and perfect weather; all designed to maximise productivity and wellness.
Explore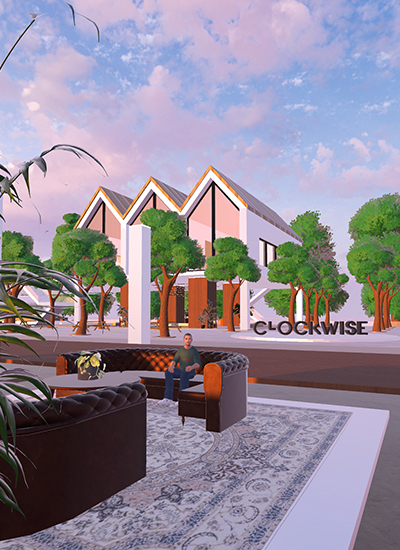 Without the confinements and barriers of physical space the Clockwise Campus is a utopian version of our traditional offering. The usual financial, operational and practical concerns don't need consideration here; no pressure to maximise price per sq ft, anxiety about energy consumption or bad weather; in the metaverse it is always a beautiful dawn-like day with no chance of rain!
In 2024, the amphitheatre space will be a home to a series of programming with industry experts and thought leaders. With a capacity for up to 50 guests, events will include talks, panels, and intimate discussions led by industry pioneers. Clockwise members can also share insights and business advice, collaborating with AI experts in speaking opportunities and summits.
Dive deeper into the topic and discover the business benefits awaiting you in the Metaverse, learn about virtual office space, and how AI can support your business.
Read More