About
Clockwise
We provide well-designed, contemporary private offices, shared workspaces and meeting rooms with brilliantly flexible membership plans. We zero in on the details, so you can zoom out to the big picture. We'll make sure everything works, so you can do your best work.
We are Clockwise
Since our launch in 2017, we've made it our mission to anticipate the needs of our members and their businesses from day one. With ongoing flexibility, ongoing support, and proactive service, we take the time and effort to learn who you are, where you're going, and how you're growing.
From our modest beginnings in Glasgow, we now have locations across the UK, with many more openings planned for this year. Among them, our second location in London, Bromley, and our first location in continental Europe, Clockwise Brussels.
Find a location
Facilities & Perks
Supporting you, your team and your business
Initial Benefits
Ongoing Benefits
No upfront costs: No CAPEX investment required
Short and flexible licences: Monthly rolling contracts available
Occupation at speed: 24 hours from initial enquiry to move in
More space: Your desk or office plus breakout areas, club lounges and meeting rooms
Adaptable space: Expansion and reduction possibilities according to your business needs
Great space: Beautifully designed with productivity in mind
Support with complete real estate strategy: Opportunity to combine flexible licenses with traditional leases in the same building
Smart locations: In town and city centres across the UK and Europe
24/7 Access: Here for you whenever you work best
Excellent service: A dedicated office support team, cleaning, maintenance and security
Clever design: Dedicated to work and considered to support different working patterns
Great WiFi: Unlimited, high speed and secure
Additional amenities: Kitchenettes with complimentary tea and coffee, cafés and meeting rooms
A connected community: Instant access to an engaged and open network of members and businesses
Member programming: Events to inspire personal and professional growth
Technology for collaboration: From the app to the A/V
Member testimonials
Having been a member of Clockwise for almost 4 years I could not be happier. The office space itself is spacious, modern and clean. The management team are first class - no request is ever too much hassle and they regularly seek client feedback with a view to continuously improving what is already a fantastic concept. This is genuinely a great place to work.
Jennifer McLean
Klarent Hospitality
A fantastic place to work - absolutely no detail is missed in creating a stylish, function workspace, and the team are so friendly and helpful. Cannot recommend enough.
When we decided to move to Clockwise I reached out to the management team and they have been fantastic ever since! The team often go above and beyond, a lot of the time at the last minute to accommodate Gemba.
Camille Mallon
Gemba Advantage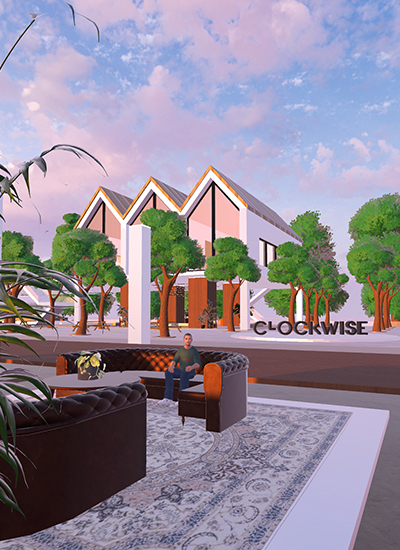 The Clockwise Campus
The first ever workspace in the metaverse, created to provide a digital platform for people to connect, collaborate and interact in various spaces including: meeting rooms, desk spaces, breakout areas, an amphitheater for events, and a dedicated contemplation space.
Find out more
Corporate Social Responsibility
Sustainability is ingrained in our corporate vision and values, our culture, and everyday actions. Our vision is for a future in which every work environment and experience has a positive impact for people, places and the planet.
Read More
The Clockwise Team
Our People
Whichever Clockwise you call home it is our people that make our spaces great. Meet the team, hear their stories and get in touch if you want to join us.
Meet the team
Owned & Operated
Clockwise is backed by a strong property portfolio. We own and manage each and every Clockwise venue. Our spaces and services are designed with our members in mind. Benefits include:
Higher investment into building facilities with a long-term view point.
No lease liability and strong long-term resilience.
Full end to end user experience to ultimately provide a better service.
Support with complete real estate strategy, collaborating on requirements to combine flexible licenses with traditional leases.
Find a location
Workspace Checklist
Try our handy tool to see, at a glance, what's included in a Clockwise membership and compare us to other providers in your search.
Download now